DX 95 carpet erector

DX 95 raises your carpet rolls with hydraulic power. Stable construction and easy to handle. Can handle rolls of up to 250 kg of weight and 2,5 m of width.
DX 90 roller bed

The roller bed DX 90 is an easy aid when handling heavy carpet rolls. Makes carpet laying in long corridors easy. Wedges can be folded in during transport. Weighs 12 kg.
DX 96-series carpet tools, saves your back and knees
Carpet tools and holders for working in standing positions. All tools fits to the telescope-handle DX96-5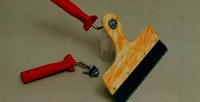 DX 96-1 glue spreader holder

Designed for larger areas. Fits most glue spreaders.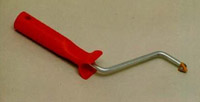 DX 96-2 joint scraper
The scraper is equipped with tungsten carbide multi cut.
DX 96-3 welding pistol holder
Fits Quick and Leister. Other holders can be manufactured on request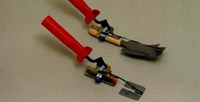 DX 96-4 lunar knife Holder
The welding joint sleigh, which is fitted with a lace is, included.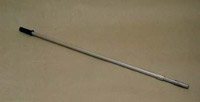 DX 96-5 telescope-handle
Very robust, all Aluminium telescopic handle.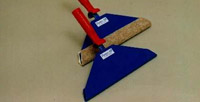 DX 96-8 presser
Made of laquered steel. Delivered without carpet and double sided tape.
DX 96-9 wide putty holder
For scraping after puttying. Designed for puttying with woodback.
Danex AB Servicegatan 1, SE-931 76 Skellefteå, Sweden +46 (0)910-35 800 danex@danexab.se