COMPACTING UNITS
Mobile units for filtration and vacuum packing of asbestos and other hazardous materials into a plastic stocking. The packaging is performed in underpressure, which minimizes the risk that vicinity is contaminated with hazardous materials from the demolition site. The packaging sequence is automated and steplessly adjustable to suit different types of material- and capacity demands.
The compacting units are used together with a hammer mill or jaw crusher and a vacuum unit. The hammer mill or jaw crusher fractions the material and the vacuum unit sucks the material from the demolition site to the compacting unit where it is hydraulically pressed into a plastic stocking and is sealed for risk free handling.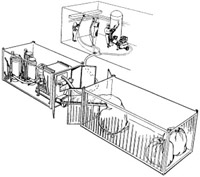 DX 15 K
Our smallest compacting unit with a capacity of up to 5 m³ / h which is suited for smaller jobs.
TECHNICAL DATA
Electrical connection
Dimensions (L x W x H)
Weight
Motor power (hydr. unit)
Number of filter hoses
Filter surface (barrier filter)
Capacity
Maximum pressing force
Hose connection
Suitable vacuum unit
16 A/400 V, three phase
1930 x 1300 x 1900 mm (length without outlet feeder stud, height without extension legs)
1200 kg
4 kW
28 st
6,4 m²
5 m³/h
8 ton
Ø100 mm
22- 36 kW
DX 30 K
A larger version of the DX 15 K with a capacity of up to 20-30 m³ / h which is suited for contracting that requires higher capacity.
TECHNICAL DATA
Electrical connection
Dimensions (L x W x H)
Weight
Motor power (hydr. unit)
Number of filter hoses
Filter surface (barrier filter)
Capacity
Maximum pressing force
Hose connection
Suitable vacuum unit
32 A/400 V, three phase
3600 x 1780 x 2400 mm (length without outlet feeder stud, height without extension legs)
1800 kg
7,5 kW
60
13,6 m²
20 - 30 m³ / h
8 ton
Ø125 mm
> 37 kW
Danex AB Servicegatan 1, SE-931 76 Skellefteå, Sweden +46 (0)910-35 800 danex@danexab.se